Here's what our happy clients have to say...
Blown away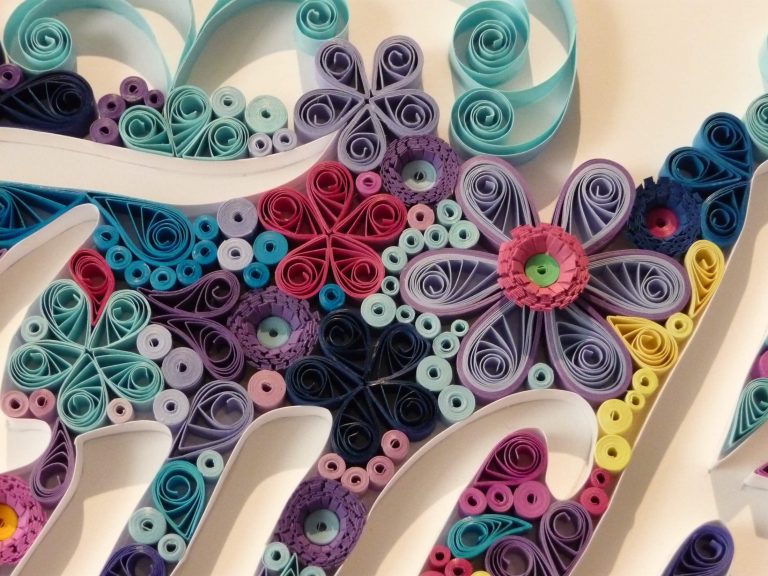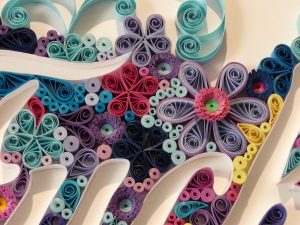 I commissioned Kath to make one of her swear word quilling pictures for me in colours of my choice. I gave her very little direction other than "blues and purples". Right from the beginning Kath was incredibly easy to work with. She messaged me the colour pallet she wanted to use and I was very excited to see how the finished product would look.
I was sent updates as it was coming together and the craftsmanship just from the photos was superb.
Let me just say this, photos can not and do not give Kath's work justice. I was blown away at the finished product. The detail and depth of my finished piece far surpassed my expectations. It's stunning and quirky and absolutely perfect. I wouldn't hesitate to recommend Kath's work to anyone. Her pieces are unique and so eye catching. She is warm and so friendly to deal with making and designing a custom piece was an absolute pleasure.
Jami-Anne- Melbourne
Very friendly service
I came across Kath's work on her facebook page only a few years ago and fell in love with her quilling instantly.
The very first piece I ordered was a gorgeous Cat for my mum who adores them.
Kath's work is of top quality and the attention to detail is amazing. There is nothing this woman can't do. I now have a few of Kath's pieces in my collection and I will be ordering a few more.
Kath can accommodate you with just about anything you want made, no hassles and she offers a very friendly service. I highly recommend Kath if you are looking for a special gift or just want something special to admire.
Michelle- Brisbane
It's amazing!
It's amazing!! Made with care, creativity and love.
Stacey- Melbourne
Phenomenal
Your talent, skill and patience are phenomenal Kath. Just amazing.
Rhona- Melbourne
So happy
I asked Kath to do a custom piece for the birth of my great nephew and what a fab piece it was! Both mum and dad were so happy to receive such a beautiful present.
I look forward to working with her on the next one for the new baby due in a few months' time.
Kath also kindly donated a piece for my sisters breast cancer "Pink Day" fundraiser which was greatly appreciated.
Sandy- Melbourne
Gift for a bereaved friend
Dear Kath
Thank you very much for the beautiful keepsake that you created by hand. I had previously bought a unique mug from you, and really enjoyed the artwork. When it came time to find a special and sensitive gift for a bereaved friend, I knew where to go immediately. You took what I described and had pictured in my head; and created it into a framed and memorable piece. The frame was very affordable, ready fairly quickly considering the amount of time and care that goes into your work. You're a dream to deal with and look forward to coming to you for future purchases. Thank you!
Cheera
Cheera- Melbourne
Amazing job
Hi Kath, Zaree absolutely loved her Sugar Skull. You did an amazing job. Thanks again. I'm sure I will be ordering again in the future.
Elaine- Melbourne
So excited
This is amazing work. So excited to hang it in Roy's room. Thank you so much Kath.
Sinead- Melbourne
Gorgeous
Donvale Calisthenics would like to thank you very much for your support in donating a gorgeous framed Abstract Bird for our 50th Anniversary Celebration door prizes.
We can't thank you enough for the beautiful donation and support.
Our winner was extremely happy with her prize.
Donvale Calisthenics Club- Melbourne
Nailed it
I have used Quilling By Kath for several gifts. Both were unique requests (kookaburra and a pelican) and Kath happily took on the jobs and nailed it ?
She was great in communication and service. The final products were amazing, handmade with such perfection and detail. Both recipients were over the moon with these one of a kind personalised gifts and I have recommended Quilling By Kath to many of my friends since. If you are after something special, handmade and love to support small businesses, look no further than Quilling By Kath.
Natasha- Melbourne
Absolutely LOVE this
I absolutely LOVE this. I can't wait to give it to them! Another beautiful piece, I'm so happy. Thank you again Quilling By Kath
Michelle- Brisbane, QLD
Absolutely love it
I absolutely love it and can't wait for my boy's birthday now to give it to him. Thank you SO MUCH KATH.
Beth- Melbourne
Just stunning!
My friend Andria sent me one of your art works. It is just stunning! I just wanted to tell you how happy I was with it and that it is now on my son's memory shelf with all of his belongings. Theo was born sleeping in November 2016 at 40 weeks. He was my first child. So it's so special to be able to have this created especially for him. I just wanted to let you know how beautiful it is. Thank you so much.
Andrea- Melbourne
Amazing gift
An amazing gift idea for loved ones, completely individual and customizable. Kath will work with you to get your desired piece of art. I wanted to combine 4 different elements from 4 of her previous pieces of work and it was too easy for Kath, she made my creation exactly how I pictured.
Thanks Kath, I'll be recommending you to friends and family for their gift ideas.
Aaron- Melbourne
Special birthday present
I put my order in for a very special birthday present for a dear friend. Kath was extremely professional, gave me advise on designs, a number of colour options and pictures to choose from and had the job completed by the required date. I had progress communication the entire way through. Overall I am extremely happy with the gift and would recommend Quilling By Kath to everyone!
Briallen- Melbourne
We love it
My sister got this for my daughter and we love it. Such beautiful work, thank you.
Kylye- Sydney, NSW
Very happy
I purchased a "dia dellos muertos" skull as a gift for my sister in law. I was very happy with the outcome. Kath did a great job with what I was looking for. I would definitely ask her to do something else again.
Ana- Melbourne
Delivered safely
Thank you Kath. They were beautiful pieces and delivered safely to the twins. Mum loves them too.
Taiya Tran- Melbourne
I didn't know what I wanted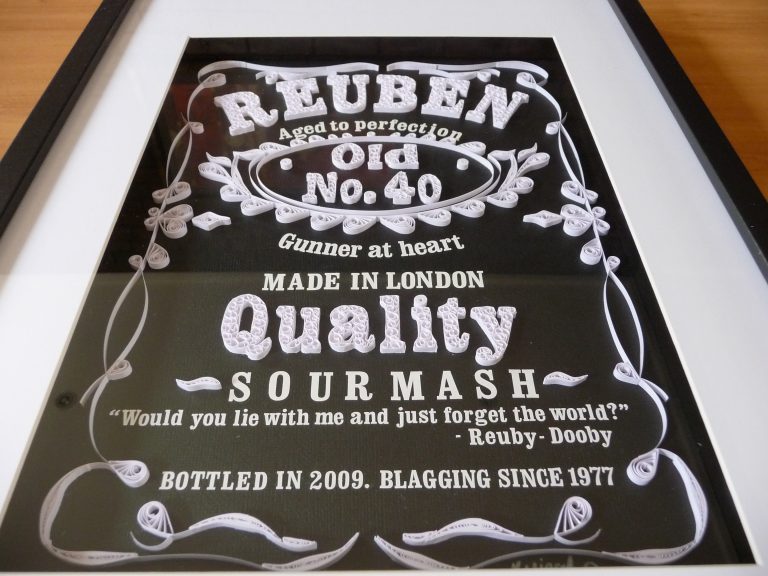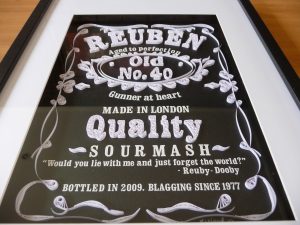 It is wow. I didn't want another "standard" present….but I didn't know what I wanted. Thanks heaps Kath for putting your hand up when I would never have thought of it otherwise!
Davina- Melbourne
Thrilled to receive it
Hi Kath, thank you for making this piece for Serenette- we were thrilled to receive it from her!! It is such a treasured part of our little boy's room. My husband even commented on the amount of work that must have gone into creating it. You are so talented- thanks again!
Melissa- Melbourne
Just amazing
I have had two going on three dealings with Kath and she is just amazing!
She has a very laid back and very understanding personality which makes it a joy to do business with her.
She has a real passion for quilling and it really shines through in her work. She is constantly challenging herself to do better and I have seen this from only my two dealings with her.
I have loved all of my pieces from Kath and have recommended her to all of my friends and family.
She is happy to do exactly what you want but also has an incredible talent for making your piece one of a kind.
I would 100% do business again with her.
Thank you again for all of my amazing pieces so far and future pieces to come.
Lacey- Melbourne
Beautiful keepsake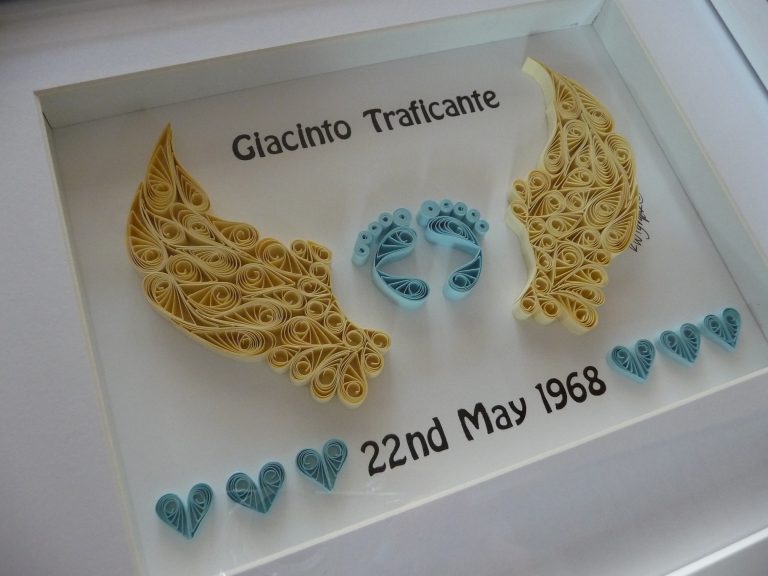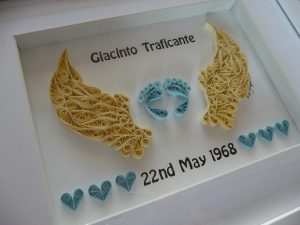 Hi Kath
We gave mum the picture yesterday. We shared a few tears and hugs and remembered a son we were never luck enough to keep with us. This week is a difficult time for mum, but she LOVED the picture! She thanked me so many times. It is a truly beautiful keepsake to honour his memory. I look forward too ordering with you again. You are truly talented.
Kindest regards, Julie
Julie- Melbourne
Creative flair
Quilling By Kath has created several design pieces as birthday, engagement and new baby presents for my friends.
Kath's creative flair brings to life unique designs and colours that I have never seen before- her Christmas collection of snowflakes were breathtaking! Her particular skill in matching designs and colours to suit what I am looking for is priceless- as are her one-of-a-kind personalised design pieces.
For something beautiful, unique and meaningful- call Quilling By Kath!
Bernadette- Melbourne
Incredibly talented
We have had three pieces created by Kath and are sure to go to her for many more in the future! She is incredibly talented and we always love the way our pieces come out!
She happily (and patiently) works with us on each design, to make each one unique and ensures we are completely happy with it before she begins quilling. Two of the three pieces we've ordered have been gifts that were absolutely loved and cherished by each recipient.
We've passed on Kath's information to interested family and friends and would happily recommend both her (as a lovely artist to work with) and her art to anyone!
Sarah- Melbourne
Detail is exquisite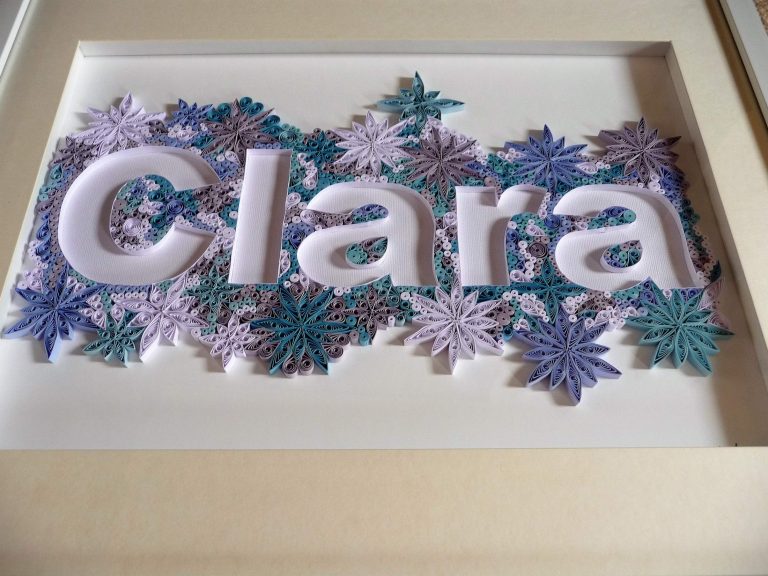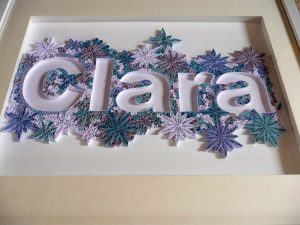 I am the very luck recipient of this piece of art. I absolutely love it! It's even better in real life, and the detail is exquisite. Kath is a very talented lady and so friendly to deal with. Thank you so much Kath for creating this special piece for my daughter, that I know she will cherish for years to come.
Alexis- Melbourne
Personalized gift
I have known Kath for many years. She decided to get back into "Quilling" and "oh my" what an amazing, talented woman she is!
I wanted a personalized gift for a new born baby. Although I knew I wanted one of Kath's quilled pieces, I struggled to decide what to choose, so I left it to Kath. I sent her photos of the baby's room and she worked from there.
The result was just beautiful. The colours blended with the decor of the room and she took all the hard work out of the decision making for me. Along the way she involved me to make sure that I was happy.
In short, Kath was extremely easy to deal with, very helpful and so very talented.
Sue- Melbourne
Something fabulous
Hi Kath, I just wanted to thank you for all your amazing work on my husband's Christmas present. You took my vague ideas and turned them into something fabulous that we will both treasure. Your attention to detail in both your work and the way you run your business is wonderful. Thank you for making it all so easy. Wishing you all the best!
Natasha- Perth WA
We are thrilled
This beautiful piece has now arrived safely in Denmark. We are thrilled! It is so beautiful! And we recognised Wilma (our dog) instantly.
Janni- Denmark
Incredible job!
Kath, you done an incredible job! The detail is just beautiful and my little man just adores it! The frame is of the highest quality as it the actual art itself. You are fantastic to deal with and completely understanding of all my artistic input haha thank you so much.
Tegan- Melbourne
I loved it!
Hi Kath, I received one of your birth announcements from my friends as a gift for my son and I loved it! Thanks so much.
Nic- Melbourne
Definitely ordering more
I have used "Quilling By Kath" a few times now for unique hand crafted paper quilled wall art for gifts for family and friends.
In each piece I've had made you can really see the time, patience and passion that Kath puts into her work.
Kath is so happy and willing to help with working out what colours and ideas to make the piece the best it could possibly be. She is very fast and will get them done when needed.
I have recommended her to friends and will be definitely ordering more pieces from her in the future.
Chloe- Melbourne
Stunning!
STUNNING! And they absolutely LOVED it!
Missy- Brisbane, QLD
Absolutely LOVE every piece I
Absolutely LOVE every piece I have bought from Kath. Your work Kath is amazing and it's the only present I'll give as a birth present. I really love a hand made personalised piece and this is exactly what im after! And did I see Afterpay is available…..the kids saw the latest frame and I've just sent you a message for another order! 🙂
Candice Cholmondeley
Personal touches
I first came across Quilling By Kath on her Facebook page, and boy am I glad I did!
I have bought quiet a few framed pictures now, and they have all been loved by the people receiving them! They have even made the long journey to the United States for my best friend.
Quilling By Kath's creations are my new go to present for friends and family for births of their babies.
Thank you for your personal touches, promptness and honesty.
Loren- Melbourne
Most beautiful gift
OMG, this was the most beautiful gift I received yesterday!
As a scrap booker and paper crafter myself, I truly appreciate the time and love that went into this piece! The saying is something we tell our beautiful girls and each other all the time (we are also callisthenics mums) I just love it so much! You have a wonderful gift Kath, thank you for sharing it with others.
Allison- Adelaide, SA
My best friend loved it
I was searching for a unique gift for a special friend. I sent Kath a picture of the baby nursery and asked her to create something special to match. The result was amazing! I loved it, and my best friend loved it so much, it now proudly hangs in babies room.
The detail and creativity was exceptional. Kath's passion really shines through in her work.
Amazing service, and amazing products! Thanks Quilling By Kath!
Jackie- Melbourne
We'd love to hear your thoughts ...
This error message is only visible to WordPress admins
Error: No feed found.
Please go to the Instagram Feed settings page to create a feed.